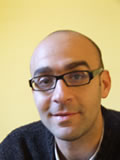 Research Title: Reality on Finer Scale. Contemporary Cinema and Perceptive Afflictions
My study focuses on the perceptive alterations that modify the relations among and between characters and their narrative contexts in contemporary cinema, which I will analyze from the perspective of the crisis and disappearance of the subject. I am also interested in the ways these alterations can contaminate cinematographic language transforming the nature of the image and our relation (as spectators) to it.
Amnesia, insomnia, hallucination, blindness, memory dysfunctions, conspiracy theories and paranoid perspectives: these are all narrative elements that work both at transforming the cinematic mechanisms through what they tell and how, and at dismantling the subject inside the contemporary horizon of narration.
The loss of the subject as today's cinema sees and tells it, is that of a subject that is incapable of relating to the world according to usual norms and standard parameters – even though these parameters can show the subject's crisis without being altered. However, I intend to show how the dysfunctions of the body-machine show this same crisis while highlighting the continuous metamorphosis of the subject.
This amnesic, sleepless, blind, hallucinated and paranoid cinema often goes through a significant process of linguistic mutation, in order to visually support the transformations it tries to narrate. Similarly, there are films that narrate this same mutation from an interior, I would say internal, perspective.
My study essentially focuses on American cinema of the last decades – with special attention accorded to recent contemporary films – in order to find the traces of this narrative mutation, which turns into a visual transformation. However, I will also devote part of my research to the analysis of a number of works by 'classical' directors – Orson Welles and Alain Resnais above all – who started working with the dimension of perceptive trauma.
I believe this kind of "affected narration" is today the privileged place of departure for the narration of the present time as an absent dimension, a dimension that avoids our perception. This shifting point of fracture is the space in which all the perceptive traumas converge to describe and reflect a time that seems to besiege the subject.
***
He is a Ph.D. candidate in Computing, Communications and Electronics at the University of Plymouth (Planetary Collegium), Uk/Milan Node (Milano, Nuova Accademia di Belle Arti). His research programme titles Reality on a finer scale and focuses on perceptive afflictions in contemporary cinema. His interests center on film history and film asthetics, cultural and visual studies. He is Lecturer of Film History and New Media Aesthetics at the Fine Arts Academy of Palermo, and he also is film critic for the monthly magazine "Duellanti". His articles and essays appeared in such magazines as "Segnocinema", "Bianco e nero", "Cyberzone", and in various film festival catalogues. He graduated with a degree in Literature and Art History from the University of Palermo, Italy, and then, as a visiting scholar, studied contemporary cinema (especially American cinema) at the Film Studies Program at the Department of Rhetoric of the University of California at Berkeley, U.S.A. From 1999 to 2005 he has been the director of the annual Film Festival in Palermo. His books include Face/On. La narrazione e il volto cinematografico (Rizzoli, Milan 2005) and Il cinema dei Coen (Falsopiano, Alessandria 1999). He is among the authors of Dizionario dei registi del cinema mondiale (edited by GianPiero Brunetta), Einaudi 2004-2006 and of Enciclopedia del cinema. Garzantina (edited by Gianni Canova), Garzanti 2002.